Caribbean Draw Poker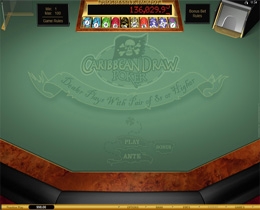 Caribbean Draw Poker is powered by Microgaming and is a table card game played against the Dealer. The Dealer needs a pair of 8's or better to qualify. It is a version of the five card draw poker played with a deck of 52 cards and a 2 card draw against the Dealer. You may win the jackpot from a 1.00 credit side bonus bet with a Royal Flush.
There are six betting amounts to choose from that range from 1.00 credit up to 100.00 credits. You may place a bonus bet of 1.00 credits if you want to stand a chance of winning the bonus amount or the progressive jackpot.
The Dealer must have a pair of 8's or better in order to win on the Caribbean Draw Poker bonus bet. You could be rewarded with 4.00 credits up to more than 2000.00 credits or even the jackpot with a royal flush if the Dealer qualifies.
To start playing Caribbean Draw Poker, place the ante bet with your chosen credit amount and the bonus or side bet of 1.00. Select play and five cards will be dealt to you and the Dealer respectively. Your fice cards will be face up and the Dealer will have 4 face down and 1 showing.
Choose one or two of the cards you wish to replace to make the best poker hand. If you wish to keep your hand then select the Bet button. If you decide not to play the hand you were dealt then select Fold, but if you have already placed an ante bet you will lose it.
Caribbean Draw Poker is user friendly, and offers great graphics.
Play Caribbean Draw Poker at 32Red Casino