Caribbean Stud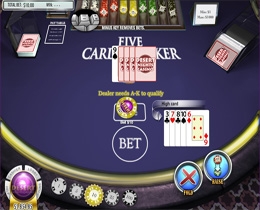 Caribbean Stud is played against the dealer using one deck of cards for every hand. There are different variants and the aim of the game is to have the best 5 card hand.
To begin, you have to place an ante bet with denominations ranging from $1 to $250. You will then be dealt five cards and you must choose to either fold or raise.
If you decide to fold then all of your bets will be forfeited. If you raise, then the dealer's hand will be dealt. For your hand to qualify, the dealer must have an Ace or a King in his hand. If the dealer does have an ace or a king and your hand beats his you will be paid according to the pay out table.
High card will pay out 1:1 while a royal flush pays a huge 800:1, which gives you a chance to win $200,000. The rest of the pay outs are ranked according to the level of difficulty.
If the dealer and player both have the same hand, it is called a push and both ante and raise bets will be returned.
There are no side bets available in this version of Caribbean Stud poker but the pay outs are a bit larger than most casinos
Play Caribbean Stud Poker Live at 32Red Casino