Caribbean Stud Poker - Playtech Version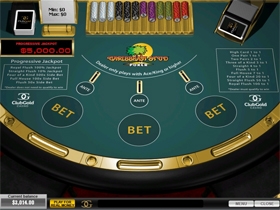 Caribbean Stud Poker begins with gamblers placing ante wager bets, and the dealer and the players will be dealt their hands with the dealers' first card facing upwards and the other four facing downwards. The player then has to choose whether to Fold or Play. If the player Folds, he will lose his ante bet, but should he decide to play, he has to place a bet worth twice the ante wager. The dealer will then show his hand, and the pay outs will be made accordingly.
If the dealers hand does not have an Ace or a King, then he will not qualify, and the players' wager will Push, and the ante wager will pay out. The player will lose the bets if the dealer does have an Ace or a King in his hand. If the player has the better hand, and the dealer qualifies then the ante wager will pay out even more. Players may place an optional Progressive wager, and do not need to win the main game, but must not fold either.
Wagers range from as little as $1 up $50, with the maximum being $1,000.
Caribbean Stud Poker takes skill to play, and players that deviate from the strategy of the game will most definitely fail.
Play Caribbean Stud Poker at Omni Casino ( Rand currency accepted too )